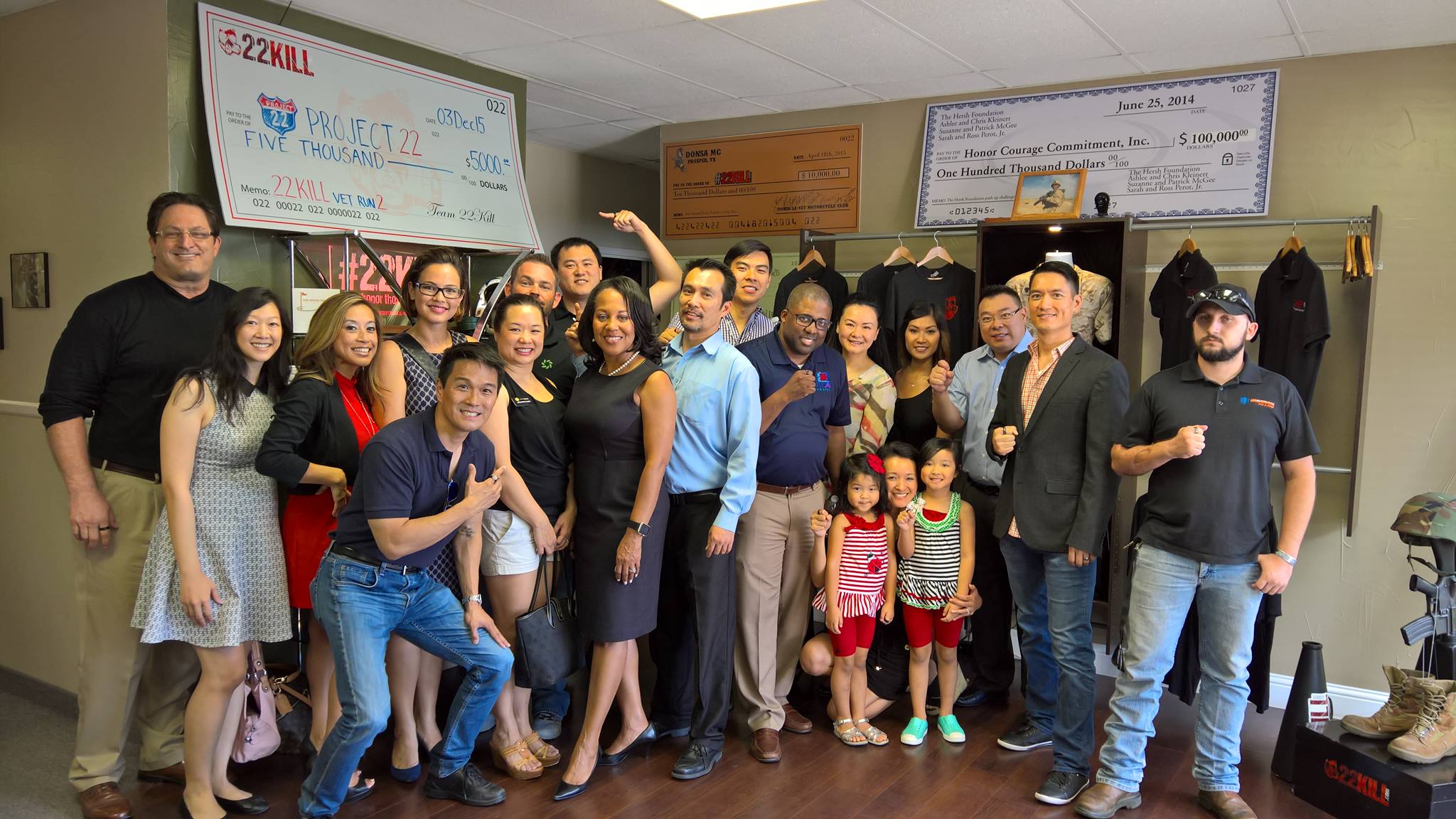 On Wednesday, July 20th, 2016, RealNex Chairman, Mark Kingston, in concert with AREAA (Asian Real Estate Association of America) leadership, presented a check to 22Kill, an organization aimed at honoring veterans and bringing to light the growing problem of veteran suicide and mental health issues. Kingston's fundraising effort, launched by former Marine Lance Corporal Jordan McBryde on behalf of 22Kill, began with a #22Pushup challenge – an awareness-raising initiative that is gaining a foothold around the country.
22Kill has set a goal of 22 million pushups to honor America's veterans and to highlight the urgent problem of veteran suicide. The challenge involves recording a video of pushups along with a statement dedicating those pushups to a person or issue. The website's current pushup counter shows 5,002,557.
Kingston and McBryde worked in concert with Young Ahn, Jim Huang and Peter Park of the Greater Los Angeles AREAA chapter – an effort rewarded by an endorsement from Leyna Nguyen of Kcal9 (CBS Los Angeles), who completed 22 pushups during her evening news report. On a Wednesday afternoon in July, over 25 members of the AREAA Dallas chapter joined with Kingston and McBryde to add their support and their pushups. At the conclusion of the event Kingston remarked, "Our work in real estate is interesting and rewarding in its own right, but coming together with friends and colleagues to support our nation's heroes puts our priorities in the proper perspective. It's incredibly fulfilling. Semper Fi to Carl Sagan."
To support 22Kill or to participate in the #22 Pushup challenge go to www.22kill.com.