Did Ya Know RealNex Stores your Real Estate License Number for display on key documents?
We have noticed that many subscribers have not updated the RealNex MarketPlace with their Real Estate License Number. As more states are now requiring license numbers to be displayed in conjunction with your property marketing, we wanted to encourage you to update your RealNex Profile to include this information. Once updated your credentials will show up on search results and client reports.
Adding your License number is quite simple. Just Log-in to RealNex and open the side menu panel to select My Settings.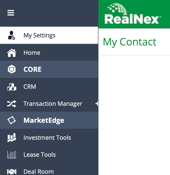 Then click on My Profile and enter the State and the License Number. That's all there is to it.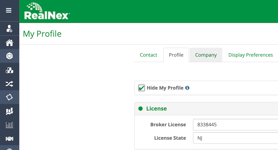 But while you are at it, you might want to check and update your profile to make sure all your information is up to date and complete as possible. Should you need to, access a quick video to show you how this is done.
To learn more about this and other new features clicking here. One of our Client Success Team representatives will contact you. You might also want to attend one of our informative weekly solution demo sessions to learn more and make the most of your RealNex solution. Click the link below to register for the session of your choice.