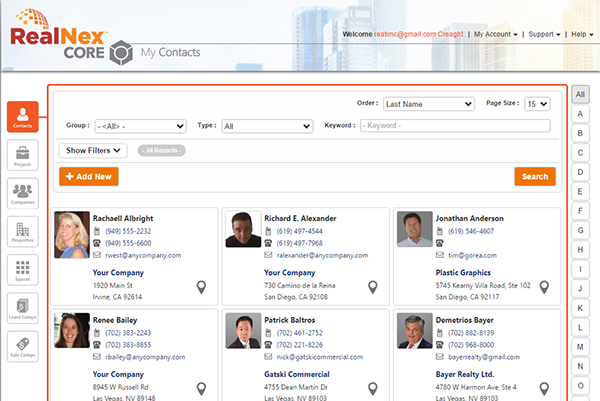 It's the season for evaluating our efforts over the course of 2016, and for looking ahead to next year. As your brokerage works on marketing plans for the coming year, keep in mind the positive impact that a quality CRM can have on your business.
Customer Relationship Management (CRM) software has become an essential tool for commercial real estate, helping brokers to meet their obligations and the expectations of their customers. A quality CRM platform integrates functions like contacts, report generation, calendars, listings, presentations, and more.
In recent years, CRM products designed especially for commercial real estate have come on the scene. These offer features that streamline common processes in the industry and allow you to do more in less time. For a marketing plan, this means more in depth information for clients -- info they can't get from a website -- delivered efficiently and then automatically monitored for effectiveness.
To make the most of marketing efforts, your CRM should have several key features. Look for them when you're shopping for the CRM that works best for you, and don't compromise.
Cloud-based solutions
In today's fast-paced market where deals are often made on-the-go, having a CRM that's available to you on any device, anytime, is paramount to your success. Look for a CRM that helps you work from anywhere. RealNex, for example, is the only CRM that offers both an online and offline capability —allowing you to work even when there's no Internet.
Data integration and analytic reporting
Your CRM should put relevant data at your fingertips and make it easy for you to quickly generate easy to understand reports. Use this to provide your clients with projections for cash flow and ROI as part of an effective campaign. Produce informative and detailed proposals with minimal effort.
Bring it all together
As mentioned, a quality CRM is housed in the cloud, so there's never any need to download or set up software. It will function across devices, so there's never an issue with access or compatibility. Your CRM should integrate your accounts and platforms —all of the tools you already use— and bring them together on one informative dashboard.
Collaboration
The CRM platform should serve as a collaboration network so that you can work with partners, clients, and team members within your account. The best systems allow users to write up and share proposals, contracts, invoices and other paperwork online. A platform that provides space for collaboration and document sharing is a must in CRE.
Scheduling and workflow
Insist on a CRM that helps manage leads, contacts, and new opportunities. The ability to categorize leads and create networks right in the system helps you target your marketing efforts most effectively. Having everything on an integrated platform lets you see the big picture, and CRM software won't let you double-book yourself. It helps to ensure that your schedule is workable and nothing's falling between the cracks.
Being organized responsive, and efficient improves your customer service, which is what keeps CRE running. In 2017, take advantage of the tools that are packed into a quality CRM platform, and watch your marketing campaign reach new horizons.
The RealNex CRM (located within RealNex CORE) can help you manage the people, properties and project information that drive your business. Download the RealNex CORE data sheet by clicking below.
And, as always, sign up for a demo to speak to a RealNex sales consultant.