Commercial Real Estate is a fast-paced industry that's constantly changing, and it's more important than ever to stand out in a crowded market. The key to success in the industry is to provide immersive and dynamic experiences that showcase your real estate. That's why RealNexVR now offers a comprehensive suite of visualization services.
Our CRE property visualization services integrates immersive VR Tours, engaging Renders, and cinematic Property Video Tours to deliver a seamless combination of tools (used individually or collectively) that truly showcase your properties at any stage of development. This full suite of services can be tailored to accommodate any budget, making it a cost-effective solution for all.
Some benefits of RealNexVR's expanded VR service lineup include:
Better Communication and Collaboration for Architects and Designers
Architects and designers can use RealnexVR's new product offering to better understand a property, identify potential issues, and communicate their ideas and visions more effectively. These tools allow architects and designers to walk through virtual models of their projects before construction begins, providing a better understanding of how the design will look in real life. This enables architects and designers to identify and immediately address issues, reducing the likelihood of costly changes down the line.
RealNexVR's comprehensive services enable architects and designers to showcase their designs in an immersive and engaging way, helping clients and stakeholders quickly visualize the project's potential, resulting in smoother and more successful projects.
Case Study: La Salle
With their pre-construction marketing and sales campaigns rapidly approaching, our client turned to RealNexVR'S VR Tours to review their initial designs. During this review process, the developer easily identified a few key areas for design improvements that would enhance the homes' appeal and increase their marketability and value. RealNexVR was able to quickly update the VR Tours based on these improvements – without causing a delay in their marketing and sales campaigns.
Accelerate Lead Generation and Closing Deals for Sales and Marketing Professionals
Sales and marketing professionals can use RealNexVR's services to accelerate engagement, generate more leads, and close deals faster. Virtual tours have proven to increase the interest and resultant viewings of listings two-fold. Prospects typically spend five to ten times longer on websites with virtual assets, leading to better and faster conversion rates. RealNexVR's VR Tours also reduce the number of wasted viewings by 40%, as prospects can view properties virtually before deciding whether to view them in person. VR tours provide a detailed and interactive experience that increases the likelihood of converting leads into sales.
RealNexVR comprehensive services provide detailed and accurate representations of a property's unique features, giving prospective buyers and tenants a better understanding of what sets it apart from others on the market.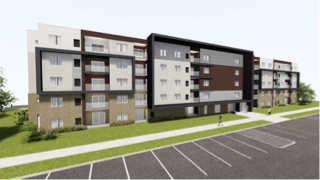 Crossings at the Heritage – Website

Case Study: Crossings at the Heritage
RealNexVR's VR Tours helped our client create the WEBSITE, BROCHURE, and LISTING for their new Condominium Complex – Crossings at the Heritage, just as the construction started. This helped them achieve a 95% presale rate for Phase 1 and receive deposits on 80% of Phase 2's units – while it was still in the design phase. Buyers were able to explore each unit and customize their interior finishes in real-time with options such as wall color, flooring, kitchen cabinets, countertops, and backsplash. This led to a better understanding of the completed unit and resulted in higher sales conversions compared to traditional methods such as small material samples and color chips on a vision board. The success of the Crossings Heritage Condominium Complex demonstrates the effectiveness of RealNexVR's VR Tours in showcasing properties and engaging buyers.
Boost Productivity and Minimize Risks for Developers
Developers can use RealNexVR's VR Tours, Renderings, and Property Video Tours to boost productivity, reduce construction conflicts, and minimize risks. VR Tours have been proven to clarify presentations, stimulate discussion, and expedite the review and approval process. The ability to place your audience within the virtual space, even before construction, can reduce or eliminate the costs associated with pre-construction showrooms, physical scale models, and traditional marketing materials. By accelerating the pre-sale process, these developers can reduce the time between construction drawdowns or investor payments, thereby increasing return on investment.
Increase Efficiency, Reduce Marketing and Holding Costs for Property Managers
RealNexVR's VR Tours, Renderings and Property Video Tours provide property managers with a comprehensive set of tools which helps generate leads, reduces marketing costs, increases efficiency, and improves tenant retention rates. The use of RealNexVR's services allows property managers to create eye-catching and informative marketing materials that capture the attention of prospective tenants and buyers, which in turn reduces the amount of time a property is on the market.
By using these tools and integrating management data directly into the virtual environment property managers can save time and resources, while still providing an engaging and informative experience for stakeholders. These can be used to visualize different layout options or design changes, helping managers to make better informed decisions quicker.


RealNexVR's services are designed to help commercial real estate professionals showcase their properties in the most immersive and engaging way possible. From designers and architects to sales and leasing professionals, developers, and property managers, RealNexVR's services have been proven to help clients achieve their goals, whether it be reducing construction costs, generating more leads, or increasing the efficiency of their property management.
If you are looking for a way to stand out in the competitive commercial real estate market, RealNexVR's new suite of visualization services is the answer.
RealNex is a complete CRE technology solution that can be used by commercial real estate professionals to work more efficiently and improve their productivity. At RealNex, we offer an incredibly powerful, yet amazingly simple, end-to-end solution. To learn more about RealNex and see samples of the products that we offer, visit our website. When you are ready to experience the RealNex difference for yourself, schedule a demo or contact us today — we'd love to talk with you!